D14, went-in on some roads that went way in there, but at the beginning, at like 5:30a or so, a couple JackRabbit came running into the dirt road because of my headlights, so I said to myself, when I come back, I'm gonna try calling, cause figure if they are in there, then the yotes can't be far behind.
I'd guesstimate like around 5-7 minute mark. The terrain in that spot worked Primo for calling too because there were a few length-wise washes running thru it. So I caught a good glimpse of her as she bounded across one of those washes. So then I just put the Pocket Prey caller on my lap and brought up the rifle just as she's behind one of those pines. Was a great hit, but STILL the damn thing ran about 35yds or so. But that's Ok cause that lil 35gr Hornady NTX projectile made it easy to follow all the blood. And you know like when you see multiple good large bits of blood, all the anxiety goes away in regards to "Will I Find It?" The kind of blood where you straight up know they ain't gettin' far.
Aw dang it, it's saying the pics file size is too large. I 'll have to LoRes 'em some of em first or something, dang it.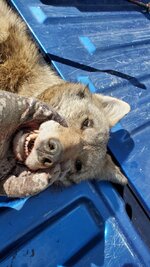 Last edited: