Ok well I might be a little premature in setting this live hunt up but I'm chomping at the bit. Over the next few days I'll update on preparation for the hunt/gear and once the hunt begins I'll be able to send real-time updates as cell service is decent.
On Friday I'll be leaving Idaho for Colorado for a 9 day solo hunt, if needed. This is not one of those highly coveted tags but I believe it has good potential for a smoker if you put in the time, glass and hunt hard. The challenge is there are quite a few 3rd season deer tags available and heavy pressure from OTC elk tags...and of course private land.
Here is the buck I shot last year on day 9 (7th day of the season). My goal is to top this buck although that's going to be a tall order.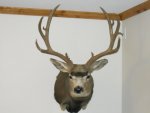 Hope you enjoy!