Joined

Jun 28, 2021
Messages

144
Location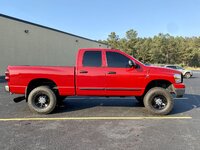 I will never sell my 07 5.9, will pass it down to the kids for a show truck. I've had them all, Cummins, powerstrokes, dmax and a pile of gas jobs. Diesel wins pulling, in mileage, and power every single time.
Sad day we can't order a new truck with a stick anymore. That's another reason I won't own a new one, I love rowing gears daily driving and for sure while towing.
I'm a gear head at heart and love simple designs and power. I will drive this truck into the ground and keep shooting my longbow and recurves haha.
Last edited: