Joined

Aug 17, 2016
Messages

837
Location
This journey started May of 2017 when I told my father to get ready because we're headed to Alaska to hunt moose. At the time I wasn't 100% sure how we were going to do it but I just knew we were. Alaskan moose, for me, has always been the pinnacle ever since I was just a little boy.
In 2020 my uncle, father and I made it happen on our first trip to AK. We drew straws the night before opening day and my uncle was up first, my father second and I was third. We ended up going 2 for 3 that trip with both bulls surpassing the 60" mark (62" & 61") A total success and the absolute best time of my life! My pilot picked me up at the end of the hunt and on the way back to his house he asked if I would do the hunt again and without hesitation I said, "absolutely I'll be back… give me 2 years"
We met my cousin (AK local) in Anchorage for dinner before we headed back down the the lower 48 and as soon as he saw me he said he wanted in next time. I said, "lets do it".
A little background on my Cousin: He didn't grow up hunting and didn't really become interested until he was in college. Before moving up to Alaska with his wife, he had gotten a little taste of it, as I helped him shoot his first deer and a couple turkeys before heading up north. As a local in his small AK town, he did what most of the locals do and basically road hunted for the next 7 years or so. He shot some caribou and was a part of his buddy shooting a moose off the road system. I could tell that he always wanted more but didn't really have anybody to give him any direction. That's when he said he "wanted in".
We met in Anchorage the day before our scheduled fly in date and the next day flew out to our small village where our pilots wife picked us up. Our pilot was ready for us as soon as we got there so in a matter of minutes we were in the air again to our hunt destination for the next couple of weeks.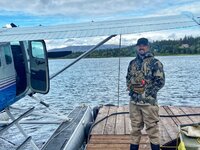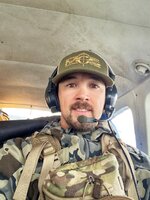 I had planned on hunting the same valley we hunted back in 2020 but the spot was already taken so we picked a new spot on the map and let it rip. Just like last trip, I had no maps saved for this new location. I had maps saved for pretty much the whole area but that spot ironically. Somewhat bummed out because we didn't get my preferred spot but at the same time it was refreshing to know we would be learning a new area.
We got to camp 3 days before nonres season but my cousin was able to hunt the day after we flew in because his resident season had already started. The plan was to hunt for him the next couple of days, then when nonres starts, I would be up to bat since it was my 2nd trip out there.
Last edited: