Joined

Feb 17, 2013
Messages

2,138
The sun is about to set for the last time in 2022. In just a week and a half Wyoming will start accepting applications for elk licenses. Idaho already has. I hear their computer system was overwhelmed. Other states like Montana don't have application deadlines until April 1st. Lots of states have otc elk tags. Licenses obviously play a major role in deciding where you can hunt.
Are you an every year elk hunter? Once in a lifetime trip planned? Maybe you get out there every 3-5 years when you have the points to hunt your favorite spot.
I'll be back in a Wyoming general elk license area. I'll be with two partners. One has hunted from my camp 3 times and knows his way around very well. He's killed two bulls there already. The other has elk hunting experience in Colorado and Idaho but has never hunted with me before. I'm excited to get him a bull. Any branch antlered bull will do.
I'm also going to burn my deer points this year in Wyoming. As long as point creep doesn't bite me in the butt I'll spend a full two weeks camped just below the top of some high country ridges. I'll have a base camp but also gear to bivy out and really look over as much ground as possible. I'm excited for that one.
So let's hear it…. what's your plan man! Where when and with who? What's your goal?
Best of luck in the draws to everyone. In the meantime have a Merry Christmas!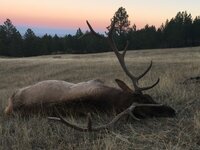 Last edited: